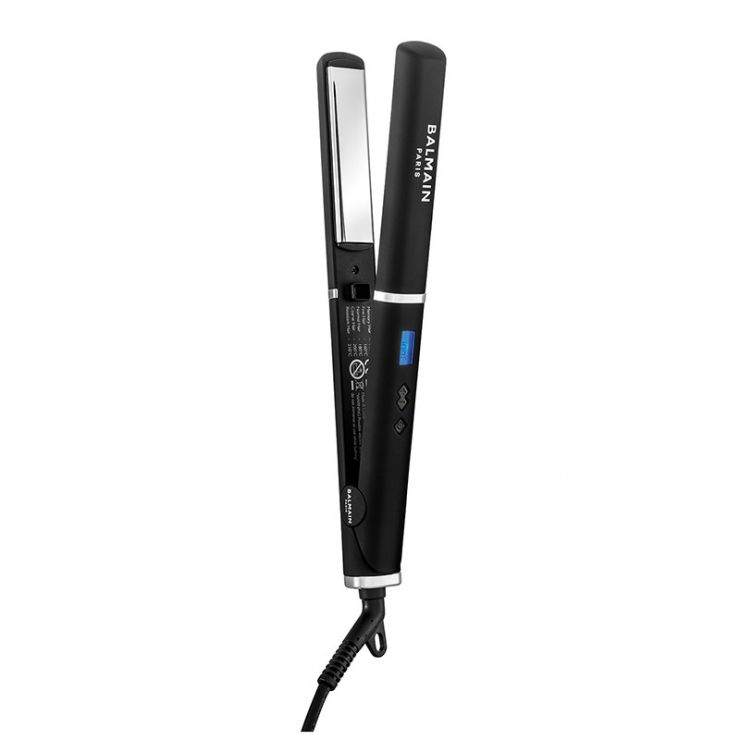 Professional Titanium Straightener
In short
The perfect tool for straight styled hair or bouncy curls. The smoothly gliding Titanium Floating Plates create a silky soft and healthy looking result. Provides exactly the right temperature for any hairstyle without damaging the hair.

Titanium Floating Plate technology

Improved temperature control
Description
Create beautiful perfectly straight styled hair or bouncy curls with the Balmain Professional Titanium Straightener. The Titanium Floating Plates heats-up quickly and conduct heat evenly throughout the plates. In addition, the titanium plates are keeping the hair moisturized resulting in frizz free, shiny, soft and healthy locks.
With its temperature control the straightener provides exactly the right temperature for any desired result without damaging the hair. The straightener heats up to 210℃/410℉.
How to use
How to make wavy locks

Hold the flat iron in a correct position from the head, with one hand on the handle and your other hand on the end of the flat iron, now twist it one turn around the hair. Squeeze the pliers firmly and slowly slide the pliers down 3-4 cm. Repeat this along the entire length of the hair. This creates beautiful wavy locks.

How to make curls

Divide your hair into parts. Take a 2-3 cm wide section starting from the neck. Place the tong vertically from the root and twist it so that the hair wraps around the tongs. Do not hold the tongs too tight otherwise it will be difficult to slide the tongs along the hair. Repeat this technique until you have covered all the parts to get a natural curly look with both soft and bouncy curls.

Note: Do not use any abrasive cleaners or materials on the Titanium Floating Plates as this will scratch and damage the heating surface and void the warranty.

Contains
Travel pouch, heat matt, 4 clips and straightener