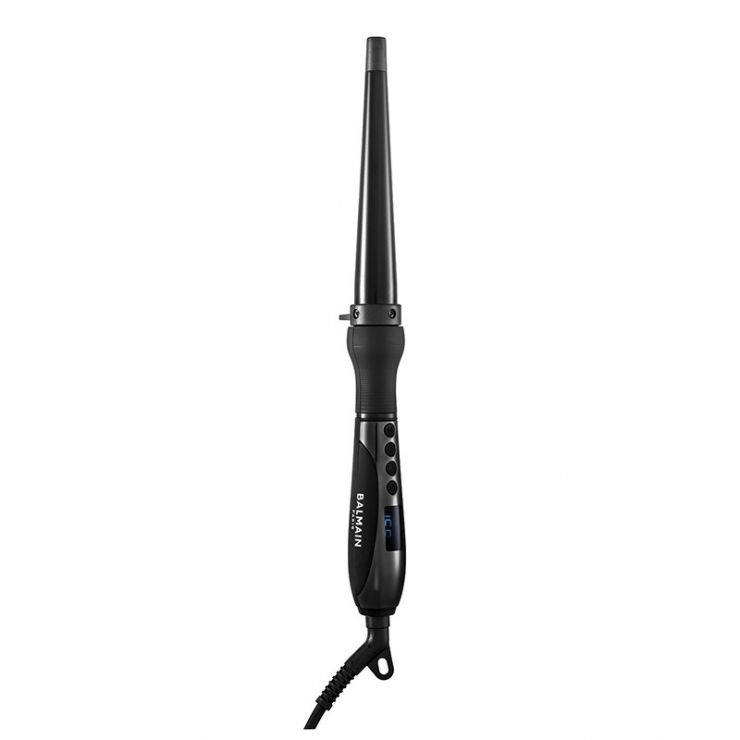 Professional Ceramic Conical Curling Wand
In short
Create playful and natural curls with the Ceramic Conical Curling Wand. Due to its wider base and narrow top it's easy to design different sized curls for a natural result. The Ceramic coated barrel leaves the curls frizz free, voluminous and bouncy.
Conical Curling Wand for natural curls

Ceramic Wand for faster heat distribution and consistent heat

Multiple heat settings from 80-230 °C / 176-446 °F
Description
The Ceramic Conical Curling Wand provides frizz free, bouncy and polished curls. The ceramic barrel reduces frizz, static and heat damage across all hair types by distributing the heat evenly.
The barrel is designed with a wider base that gets narrow towards the top. Creates smaller and bigger curls effortlessly for a more natural yet playful hairstyle. The base of the wand creates more voluminous and bigger sized curls and the tip of the curling wand is perfect to design smaller sized curls.
The protective cool tip provides a surface to hold the wand safely while curling the hair. The clipless design prevents the hair from getting kinks.
The automatic shut-off function turns the curling iron off after an inactivity of 60 minutes. In addition the wand has a built-in safety stand which makes it safe to lay the curling wand while styling.
Note: The Ceramic Conical Wand Includes Heat Mat, 4 Hair Clips and a Deluxe Heat Resistant Pouch
How to use
Make sure the hair is clean, dry and free from knots. Wait a few minutes until the curling iron has heated up. Apply a heat protectant spray beforehand. Take a section of hair and gently roll it around the curling iron. Roll the curling wand towards the scalp and hold this for a few seconds (amount of seconds differs per hair type and thickness). Gently slide the curling iron out of the hair. Repeat this process until the entire hair is curled.
Contains
Heat Resistant Mat, 4 Hair Clips, Deluxe Heat Resistant Pouch and the Professional Ceramic Conical Wand