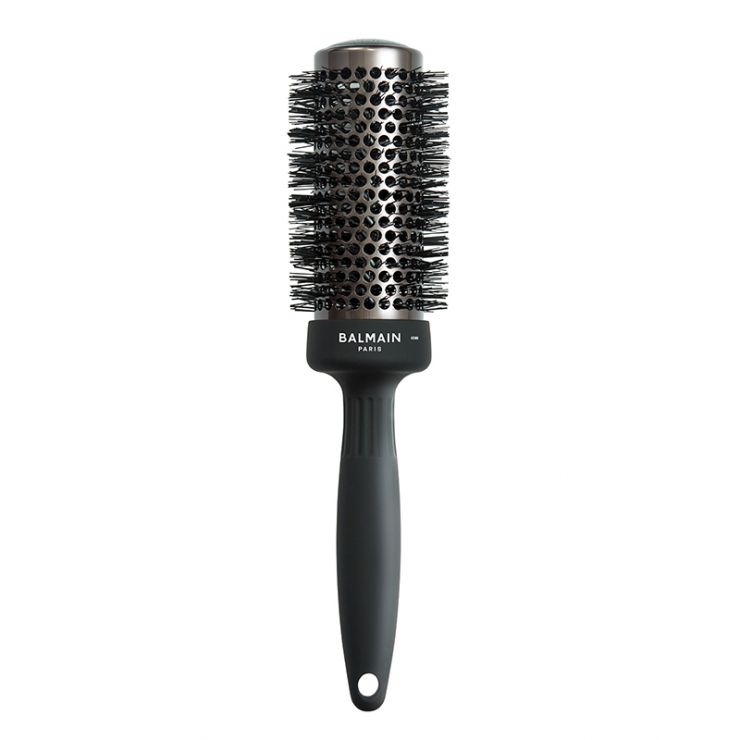 Professional Ceramic Round Brush 43mm
In short
The Ceramic Round Brush provides volume, body and healthy looking hair. With a diameter of 43mm the brush is suitable for blow-drying medium to long hair or to create volume in medium length hair.
Distributes the heat from the hair dryer

Ideal for medium length hair
Description
The Balmain Hair Couture Ceramic Round Brush gives of negative ions which seals the hair, closes cuticles and leaves the hair smooth.
The ceramic coating barrel is designed to spread the heat evenly to create more shine, volume and dry the hair fast due to its negative ion technology. The bristles help to smoothen the flyaways for a long lasting silky finish. With ergonomic, seamless handle and large round holes to optimize the air flow in the brush. The brush has a diameter of 43mm and is suitable for blow drying long to extra-long hair or to create volume in medium length hair.

How to use
Use the Thermal Protection spray to protect the hair from the heat of the blowdryer. Place the Ceramic Round Brush against the roots and let the tool work with the hair dryer. Move the brush slowly from the roots to mid-lengths and ends while twisting the brush to the side where the wave has to go up. Use the hair dryer at the same speed so that it goes down with the brush. Repeat these steps for every hair section.
Backstage Secret
For best results, clean the brush regularly by removing any remaining hairs with a comb. Comb the hair from bottom to top to easily remove the remaining hair.