Discover the Balmain Homme Grooming Routine
Discover the Balmain Homme Grooming Routine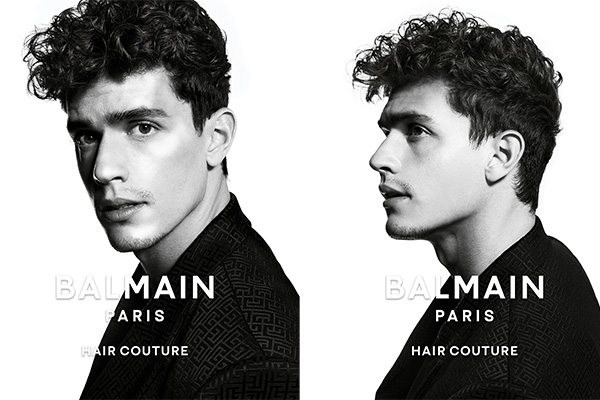 Discover the Balmain Homme Grooming Routine
With aging, men often experience thinning hair. The Balmain Homme Grooming Routine helps men to create thicker, healthier, and full-bodied hair. The Homme line consists of selective grooming products that are scented with the intenste amber and woody scent: the signature Balmain Hair scent.

NEW two new styling products have been added to the Balmain Homme line to complete your grooming routine: the Balmain Homme Styling Gel Medium and the Balmain Homme Sculpting Wax.
Tips of Balmain Hair stylists: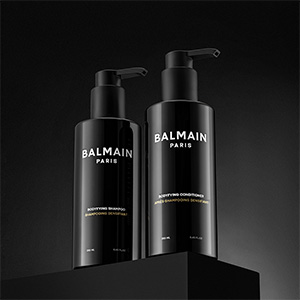 STEP 1: BALMAIN HOMME BODYFYING SHAMPOO & BODYFYING CONDITIONER
Hydrated hair is the key to achieve healthy and full-bodied looking hair. Keeping your hair well moisturized can prevent many problems, such as brittleness and breakage to dry scalp and hair loss. Due to our daily activities, most moisture draws out of your hair. With the Balmain Grooming products, you can limit the moisture loss and therefor limit the damaging effects. Our hair stylists recommend using a lightweight, daily cleanser. The Bodyfying Shampoo improves volume, body, and structure to the hair. You can follow up this cleanser by adding the necessary moisture to your hair using the Bodyfying Conditioner. By using both products in combination with each other, you have the perfect products to create thickening hair with the right moisture balance.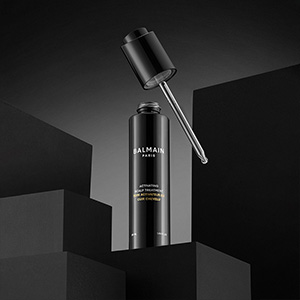 STEP 2: BALMAIN HOMME ACTIVATING SCALP TREATMENT
Freshly out of the shower, it's recommended to follow up with some extra steps to make sure you maintain the hair density and stimulate hair growth. The Activating Scalp Treatment is specially designed for men with thinning hair concerns. With active ingredients such as Procapil and caffeine you can ensure this healthy hair.
NEW
STEP 3: BALMAIN HOMME SCULPTING WAX OR STYLING GEL MEDIUM HOLD

To complete your new routine, we have created the perfect finishing products. Starting with the Styling Gel Medium you can create the perfect medium hold look. The lightweight, water-based formula in combination with the moisture-resistant gel activates, defines, and controls the natural hair. The formula is enriched with argan elixir and silk protein to stimulate moisture balance and ensure that the hair retains optimal moisture. These ingredients protect damaged, dry, and weak hair from environmental influences, resulting in healthy-looking locks. This is the perfect product to start with on damp hair. The Sculpting Wax is the perfect finishing wax in your routine. Our hair stylists recommend using this product on dry hair, for the creating of hair looks with a natural matte finish and a medium hold. The lightweight formula helps shape and strengthen each hair strand for a voluminous hair look.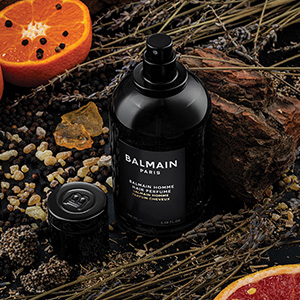 STEP 4: BALMAIN HOMME HAIR PERFUME

End your grooming routine with the Balmain Homme Hair Perfume. A richly scented hair perfume with the intense oriental, woody fragrance of Balmain Homme. Spray the perfume lightly on the hair with a distance of 25-30 centimeters avoiding the roots.